What we do
For more than twenty years Road Radio has reached student audiences across Pennsylvania, Maryland, New York, and Connecticut. Almost everyone knows of a young life cut short or irreparably damaged from an alcohol-related driving crash, and we all would like to see such tragedies prevented. Jim faced these feelings after his crash and desired to reach and help young people by sharing the consequences he experienced.
Thus, Jim became the creator of an exciting communication for teens called Road Radio USA. The bad choices that led to the crash and changed his life and the lives of those around him is the focus of this graphic, award-winning show. Pulling from pre- and post-crash life experiences, Jim and the Road Radio crew devote their time and talents to getting the message across to teens about the consequences of alcohol and drug use. With the input and support from many drug and alcohol professionals, educators, students, and lawmakers throughout Pennsylvania, have led to the development of the current show, which has proven very effective in reaching teens.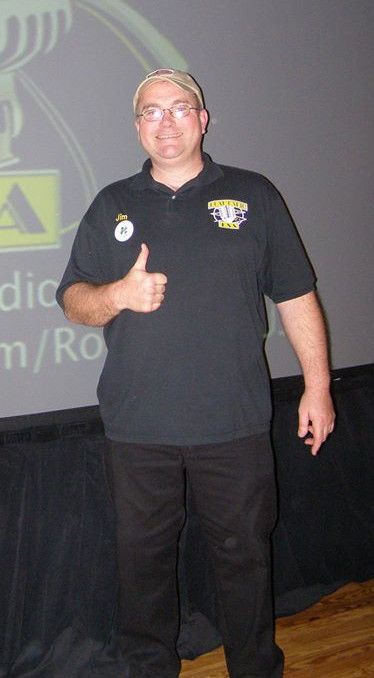 Introducing Your Host
JAMES MOTHERSBAUGH
(Jimbo in Stereo)
James Mothersbaugh Jr.'s passion for live entertainment was evident when he delayed his senior year of high school to travel with the Young American's Song and Dance Troupe. After a year of traveling, he returned to PA and graduated from Muncy High School. He continued his education and earned a bachelor's degree in Mass Communication from Bloomsbury University, followed by an associate's degree in broadcasting from the Williamsport Area Community College, and then a Stage Performance Degree from North Central Michigan College.In addition to his professional degrees and theater experiences, Jim has a tragic personal story about the consequences of underage drinking.
At 18 years old, he was a passenger in a car with three of his friends. They had been out drinking and were in a horrific car crash. One passenger was killed and Jim was critically injured, suffered triple trauma, was flown to Geisinger Medical Center, paralyzed with three crushed vertebrae and laid in a coma on a tilt-table for over three months. He was called a miracle when doctors realized that not only was he going to survive but he may walk again. Jim endured countless hours of therapy to recover. His tragic experience inspired him to share his story with students in the hopes of saving lives.Jim founded Road Radio USA and combined his talents, education and personal story to create a unique school assembly program that uses popular music, videos and spectacular lights to capture the audience's attention while mixing in important message about the dangers of underage drinking.
Near the end of the program Jim shares his emotional personal story and talks about the audience about the ongoing consequences he continues to suffer from the one bad choice he and his friends made.Jim's program has effected the lives of over 500,000 students over the past 20 years. Students, school faculty and administrators, police officers and community officials continue to support and praise this program.